Infusion Pump Model: EH737
Semi-squeeze technology and high precision;
Infusion Pump Model: EH737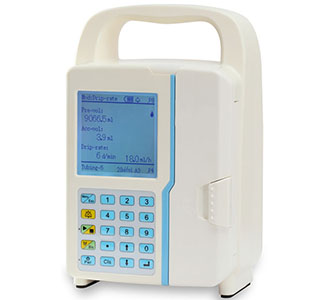 Features:
1. Semi-squeeze technology and high precision;
2. ATM type key operation which is simple and convenient;
3. Clear & obvious screen information with huge LCD;
4. 4-type infusion modes: drip/minute, ml/h, time, weight;
5. Built-in pre-setted 15 types of infusion sets;
6. 1ml/h---1200ml/h flow rate which comply with different requirement of pediatirc, ICU, CCU, clinic, etc.
Applicable to ICU, NICU, Ward, Emergency department, operation room, clinic and home use.
Suitable for adult, child and neonatal patients.
Parameters:
4 infusion modes

Flow-rate, Time-amount, Drop-rate, Body-weight

Flow-rate mode

Flow-rate: 1.0~1200.0 ml/h, 0.1ml/h step

Preset volume:

0.1~9999.9ml,0.1ml step

Cumulant:

0~9999.9ml,reset only

Time-amount mode

Time: 1s~99h59m59s,1s step

Drop-rate mode

Drop-rate: 1~333 d/min, 1 d/min step

Body-weight mode

Dose: 0.1~999.9 mg, 0.1mg step

mg/kg/h: 0.01~999.99 mg/kg/h, 0.01 mg/kg/h step

Body-weight: 1~300 kg, 1kg step

KVO function

KVO rate: 1.0~5.0 ml/h, 0.1 ml/h step

Bolus function

Bolus rate: 50.0~800.0 ml/h, 0.1 ml/h step

Bolus volume: 0.1~99.9 ml/h, 0.1ml step

Infusion precision

Better than ±5% (using a calibrated or a special infusion set)

Alarm

1,Air in tube, 3 grades of sensitivity; 2,Bubble sensor fault;

3.1,Upper-end occlusion, -20~-60 kPa,8 grades of sensitivity; 3.2,Upper-end base-pressure fault;

4.1,Lower-end occlusion, 20~140 kPa,8 grades of sensitivity; 4.2,Lower-end base-pressure fault;

5.1,Pump rotation fault; 5.2,Inverse-infusion;

6,Abnormal door-opening; 7,Low battery power, battery fault;

8,Overtime pause; 9,Completed infusion;

10,AC power fault; 11,MCU fault, and stop infusion

Data function

1,Memory of calibration: Records the calibration data of tube automatically for application;

2,Memory of parameter: Records the latest infusion parameter for next operation;

3,Historical records: records latest 1000 infusion events.

(what/when/why,flow-rate, etc.)

Safety classification

Class I; Internal power supply, CF type, IPX4 equipment

Power supply

AC 100~240V, 50/60Hz, Built-in Ni-MH rechargeable battery

AC power consumption: ≤20VA

Weight and size

130mm(w)×206mm(h)×118mm(t);≤1.6kg