Blood/Infusion & Dialysis Warmer Model BIW88
1-channel Blood/Infusion & Dialysis Warmer Model BIW88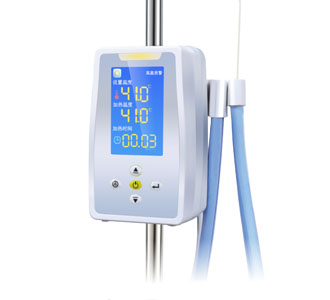 Features:
Double intelligent control, precise temperature control.
Color screen displays setting/warming temperature and warming time clearly.
Entire wrap-type low-consumption warming system with visible infusion pipe and no disposables.
Built-in high-technology warming system and low power consumption
Double temperature control system and whole machine water-proof design.
Convenient docking set for warming strip positioning conveniently.
Application:
Blood and drug liquid's products, blood dialysis, Enteral/parenteral nutrition and flushing liquid
TECHNICAL SPECIFICATIONS

Model:

BIW88 (1-channel)

Temperature setting:

33.0~41.0 ℃, or 91.4~105.8 , 0.1 step

Temperature accuracy:

±1 ℃, or ±1.8 ℉

Time modes:

1minutes ~99h59minutes; set to 0 is for cancel time-mode

Operating mode:

Continuous

Power supply:

AC100~240V 50/60Hz

power consumption:

<70VA

Warming strip:

length 1m and, with 4 heating wires & 2 sensors

Alarm

Low temperature alarm, <31.5℃/ 88.7℉, time limit 10s;

High temperature alarm, >42.5℃/108.5℉, time limit 10s;

Sensor failure alarm;

Dimension(W*D*H):

16CMx11CMx8CM

Net weight:

0.6KG

Working environment

Temperature: -10~+60℃

Humidity: 0~95%

Atmospheric: 70~106Kpa

Safety classification

Class I; BF Applied part; Defibrillation-protected, IPX4 equipment