Blood/Infusion & Dialysis Warmer Model BIW82
2-channel Blood/Infusion & Dialysis Warmer Model BIW82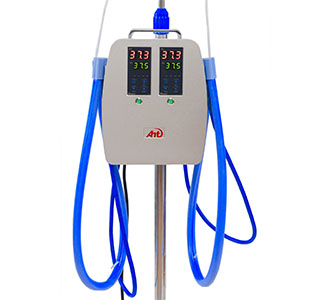 Features:
Modern reliable main unit design and high-precision TEMP control system
Standard universal blood/infusion tube applicable
Running 24 hours continuously meets clinical special demand.
Simple easy-operation interface: SV setting TEMP, PV Tube TEMP, Alarm, Back-end Data Processing
Convenient docking set for warming strip positioning conveniently.
2 channel can running 1 channel separately or 2-channel simultaneously.
Built-in high-technology warming system and low power consumption
Entire wrap-type low-consumption warming system with visible infusion pipe and no disposables.
Visual and audio alarm for upper and lower limit temperature
DC safe power supply for warming and auto-off protection for over temperature
Application:
Blood and drug liquid's products, blood dialysis, Enteral/parenteral nutrition and flushing liquid
Certificate:
CE approved and comply with standard IEC60601-1-2 and IEC60601-1
TECHNICAL SPECIFICATIONS

Model:

BIW82 (2-channel)

Temperature setting:

33-43℃

Power supply:

AC100~240V 50/60Hz DC24V3A

power consumption:

Max. 20VA

Type of protection against electric shock:

Class I

Degree of protection against electric shock:

BF Applied part;Defibrillation-protected

Degree of protection against ingress of liquids:

IPX2

Temperature accuracy:

±1.0℃, or ±1.8 ℉, 0.1 step

Overheat protection:

42℃/43℃

Low temperature alarm:

32℃

Warming up time:

From 20℃ to 36℃ approx 5 min

Operating mode:

Continuous

Dimension(W*D*H):

170x120x206mm

Net weight:

1.8kg

Warming strip:

length 1m,compatible to IV tube3~5.0mm diameter.contact us for particular necessary.